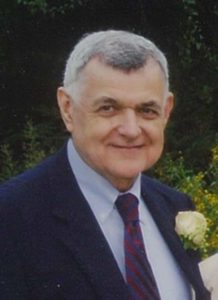 Jack Wheatley was tragically slain on Tuesday, May 12th at his Petoskey home.  His passing is a great shock to us all.  Jack had a long illustrious career in Michigan workers' compensation circles stretching over decades. It is worth pausing to recollect some of the highlights of that career.
Few know that before entering law school, Jack planned to be a pharmacist. Toward that end, he graduated from Wayne State's college of pharmacy.  At the urging of his beloved wife, Delores, he also pursued a law degree from Wayne State.  Upon attaining it, Jack then embarked on his legal career initially working as an attorney for General Motors.
In 1991, Governor Engler tapped Jack to be Michigan's Director of Workers' Disability Compensation. After a number of years as Director during those busy times, his duties were increased as he was appointed in 2000 to be Director of the combined Unemployment Agency and Bureau of Workers' Disability Compensation, a position he held to 2003.
Jack then returned to private practice as of counsel to Lacey & Jones. There as a Special Assistant Attorney General he concentrated on state workers' compensation cases assigned to him by the Attorney General.  His private practice was interrupted again In 2011 when Governor Snyder appointed Jack to the newly created Michigan Workers' Compensation Appellate Commission, which resolved both unemployment and workers' compensation appeals. Jack served as a Commissioner, including a time as Chair of the Commission, until last year.
Jack was preceded in death by Delores and is survived by family members that include his cherished grandson Jackson.
Jack will be greatly missed not only  as one of the most esteemed figures in Michigan workers' compensation, but also as a kind, gentle man, father, and friend to all.